Trust the ASE-certified professionals at our auto repair shops in Pickerington, Ohio, for professional maintenance and service that you would expect at a dealership.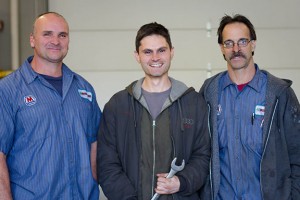 Stakely Automotive's own, Andy Stakely, has hand selected each technician based on their expertise, work ethic and ability to learn new techniques. When you come in to one of our locations, you will get the same quality service from any of our service mechanics, we guarantee it!
All maintenance and repairs come with a 20-point safety inspection. This is an added service just for you. Contact us today at 614.837.6601 for more information.
Warranty on Repairs
The average warranty on parts is one year or twelve thousand miles, and some parts come with a lifetime warranty. Labor warranties are one year or twelve thousand miles. Please note that not all repairs are due to the same problem, so the warranty is only valid for the part that was initially installed or repaired.
Services – Quality Auto Repairs
Stakely Automotive offers quality automotive services at reasonable prices. We specialize in import maintenance and repairs (especially Audi® and Volkswagen®) however, we can do complete import and domestic work, including:
Timing belts—Stakely Automotive provides expertise in timing belt replacement and maintenance. If your car has a timing belt, it has a lifespan, which would be specified in your owner's manual. Our technicians recommend replacing the timing belts along with tensioners, idler rollers, water pumps, serpentine belts and possibly thermostats since they are all within the same general area of the timing belt. This helps keep labor costs down if one of those parts has a problem-which they typically do. If everything is not properly maintained, the bearing may ride in a different position than normal, increasing the possibility of overheating and seizing up.
Brakes—In our routine brakes maintenance, we replace brake pads and install new rotors. Replacing the rotors when you change brake pads provides a flat mating surface. You can turn rotors, but it typically makes them too thin and the rotors will tend to warp rather easily. With Stakely Automotive's cheap price for brake maintenance, having new rotors installed is typically the same cost as turning the rotors. We price it this way because we care about your safety, not running up costs.
Turn or replace rotors—We recommend replacing your rotors rather than turning them over. The cost to replace your current rotors with new ones is about the same price as turning your rotors.
Exhaust—We do after-market replacement or OEM for exhaust repair. We do not weld existing exhausts out of this shop. We can manage third-party involvement for you. We can install your purchased performance parts to fix your exhaust issues and get you back on the road.
Mufflers—We do after-market replacement or OEM for muffler repair. We do not weld existing mufflers out of this shop. We can manage third-party involvement for you. We can install your purchased performance parts to fix your muffler issues and keep your automobile running properly.
New catalytic converters—We can perform after-market replacement or OEM to replace a catalytic converter. We cannot support removal of this EPA-required, federally mandated part.
Change brake fluid—Changing the brake fluid is another brake service we provide. We do recommended maintenance on brake fluid changing. We suggest manufacturers' recommendations based on your vehicle's specifications.
Air filter—We conduct normal maintenance replacements when we notice an air filter is full of dirt and outside debris. Through our thorough inspection, we will make sure your air filters are safe to prevent any damage or inefficiencies.
Perform tune-ups—Besides needing regular maintenance schedules, tune-ups generally are not to fix something that is "wrong" with the car. Many times, people think that they need a tune up when it's actually emission-related failure. You would need to have your car diagnosed before making that assumption.
Pads with lifetime warranty—We replace parts with a Gold Pad, which has a lifetime warranty, with a semi-ceramic material. It's the best we've used when compared to the Silver Pad and the Premium Pad. The Gold Pad seems to generate less squeak and less brake dust. We also use OEM parts on some of our higher-end line of cars.
Brakes and upgrades—We can replace the brake parts such as vented or cross drilled rotors.
Flush/replace brake lines—You'd want to do a flush if the fluid is dirty in the reservoir. Typically, brake lines are only replaced if they break or when the rubber is ripped or cracked. If they are so rusty that they won't loosen up and are in the way of a repair, they'll need to be replaced.
Vehicle maintenance—Regular maintenance schedules are listed in the owner's manual. They are typically scheduled for 10, 20 or 30K miles.
Oil Changes—Most cars don't need to have their oil changed every 3,000 as older model vehicles. Lubricants and filters have evolved to allow more mileage. Synthetic oil should last longer than conventional oils, depending on the driving style, too. Synthetic may burn a little faster, especially in cars with more mileage. Our expert technicians will examine your car's needs and express their recommendations on how frequently to change the oil.
Manufacturer maintenance—You don't have to go to a dealership for manufacturer maintenance. You do, however, have to utilize parts that are covered under their warranty. We can help you do that. Stakely Automotive can provide proper maintenance that you expect at a dealership, for a fraction of the cost.
Heating and coolant—We do full A/C and heater repair, which includes coolant system repairs and recharge. Visit one of our locations the next time your air conditioner or heater needs repaired. Don't hesitate to bring it in for a routine check up before the seasons change.
Transmission flush—We can do transmission flushes but do not recommend them on high mileage cars that have never had it done. Doing so would lead to harsh shifting issues or slipping because it opens up the manufacturers' wear limits, which causes the fluid not to transfer properly.
Check engine lights—Engine lights can illuminate for numerous reasons, but if it is flashing it IS MORE SERIOUS. Flashing can be a sign that damage is being done. Not addressing it can cause more damage to other components of your vehicle, not just the existing problem. We can scan your car and share those results with you for free, but must charge for deeper diagnosis.