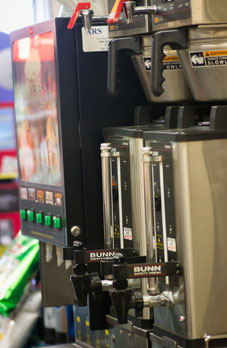 Stakely Automotive's location in Lithopolis, OH has a Marathon gas station for your convenience. This marathon station serves as Lithopolis' local convenience store. The local community and people passing through can count on Stakely Automotive's gas station to have what you need during your daily commute or to just grab a snack or some beverages.
We carry the necessary grocery items you typically run out of quickly, like milk, farm fresh eggs, and local fresh baked goods. We also carry a wide variety of beverages from Gatorade, juice, domestic and imported beer along with wine. Tobacco products are sold behind the counter, we carry cigarettes, chewing tobacco and electronic cigarettes for your convenience.
So stop by and see us on your next fill up or snack craving, we will have the coffee freshly brewed and waiting for you!